CONCRETE / CIVIL ROADWAY & LANDSCAPE
AGGREGATES
Caissons
Forming
Shoring
Piling
Site Development Concrete Placement Concrete Contractors
PreCast Concrete Cast In Place Concrete Wall Panels Tilt-Up Cast Stone Stucco
Masonry Brick Block Rebar - Steel Anchors Prestress Concrete Post -Tension Concrete
Civil
Tunnels
Bridges
Roads
Asphalt
Nursery
Rock
---

STAKER PARSON MATERIALS & CONSTRUCTION
Ready - Mix Concrete / Asphalt & Paving / Landscape Materials
Heavy Civil Construction Services, Rock, Aggregates, Roads and Site Development.
Ogden, Utah | landscape centers located in Ogden, Lehi and Salt Lake City | call 888-90-ROCKS
---
Separation Technologies LLC
A Titan America Business
Providing industry-leading fly-ash proprietary technology,
diverse, in-depth technical expertise.
Daleville, Virginia.
---
ALLAN MYERS BETTER • FASTER • SAFE
For more than 75 years, we've been building the infrastructure that defines the Mid-Atlantic.
Malvern, Pennsylvania | Delawre | Maryland | Virginia
---
MARTIN MARIETTA

MATERIALS INC.

One of the nation's largest producer of construction aggregates.

Raleigh

, North Carolina.
---
ISG

Resources Inc.

Fly ash for concrete & specialty products for the construction industry.

Salt Lake City, Utah.
---
REED

MINERALS

a Harsco company

Abrasives, roofing, seal coat and water filtration.

Camp Hill

, Pennsylvania.
---
ROKLIN SYSTEMS INC. Polyurethane products for Concrete & Asphalt Repair.
Our materials are specifically designed to provide quick installation and
long-term durability for everything from high traffic roadways to parking decks, to your driveway at home.
Lake Forest, California.
---
STEGO INDUSTRIES, LLC.
The industry leader in the below-slab vapor barrier.
San Clemente, California.
---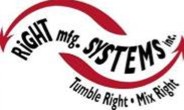 Mix Right Products from Right Manufacturing Systems Inc

Concrete mixers, rock tumblers, silos, and batch plants.

Lindon, Utah.
---
TITAN AMERICA
CEMENT AND BUILDING MATERIALS PRODUCER.
Norfolk, Virginia.
---

ROADBOND E1N PATENTED SOIL STABILIZER
World Leader in "Green" Soil Stabilization Technology.
Tolar, Texas.
---
VULCAN
MATERIALS COMPANY
The nation's leading producer of construction aggregates: primarily crushed stone, sand and gravel.
Birmingham, Alabama.
---

ConcretePumping.com
NETWORK centered around the industry we love best, Concrete Pumping.
Plano Texas
---
Mar-Mac Wire Inc. When You Demand the Best
PREMIUM Wire Products - the de facto standard for the concrete construction industry.
McBee, South Carolina.
---
Lafarge
NORTH AMERICA
CEMENT AGGREGRATES CONCRETE ASPHALT GYPSUM
North America's largest diversified supplier of construction materials in the U.S. and Canada.
Washington, DC.
---
MBW INC.
COMPACTION AND CONCRETE CONSTRUCTION EQUIPMENT
Singer, Wisconsin.
---

USG

GYPSUM

Innovative

natural products for concrete construction & finishes.

Chicago, Illinois