CONCRETE / MASONRY - CEMENT
PRE-MIX / CEMENT
Caissons
Forming
Shoring
Piling
Site Development Concrete Placement Concrete Contractors
PreCast Concrete Cast In Place Concrete Wall Panels Tilt-Up Cast Stone Stucco
Masonry Brick Block Rebar - Steel Anchors Prestress Concrete Post -Tension Concrete
Pre-Mix Bond Clean Epoxy Grout Patch Coating Finishes Sealers
Civil
Infrastructure
Asphalt
Aggregates
---

CONTINENTAL mixers a Navistar Company

Concrete Mixers, Batch Plant, Stackers, Loaders & Haulers.

Dallas, Texas.
---
CONCRETE RESEARCH & TESTING, LLC

An independent commercial testing laboratory.

Columbus, Oho.
---

GL Throop

since 1921

A national specialty ready mix concrete producer - mobile concrete batch plants.

Concrete placement, masonry repair, aggregates and landscape materials.

Pasadena, California.
---
Penneys Concrete

Redi-Mix , 17 plant locations, east Kansas & western Missouri.

Lawrence, Kansas.
---
Propex Fibermix

Global leader in Fiber Reinforced Concrete.

Chattanooga,

Tennessee.
---
VULCAN
MATERIALS COMPANY
The nation's leading producer of construction aggregates: primarily crushed stone, sand and gravel.
Birmingham, Alabama.
---
ISG

Headwaters Resources Inc.

Fly ash for concrete & specialty products

for the construction industry.

Salt Lake City,

Utah | America's Coal Ash leader
---
Granite
CONSTRUCTION
Concrete mixes, asphalt, rock & aggregates
Over 40 stationary aggregate plants, 50 asphalt plants and 20 ready mix plants.
Watsonville, California.
---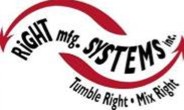 Mix Right Products from Right Manufacturing Systems Inc
Concrete mixers, rock tumblers, silos, and batch plants.