CALIFORNIA ARCHITECTURAL MEDIA
MAGAZINES / PUBLICATIONS Museums & Art Galleries California Historical Structures
Developers Architects Environmental Accessibility Restoration
Urban Planning Associations Pre-Press Magazines Photography Art
---

Erosion Control Magazine

The only magazine to focus on solutions to the

technological

and regulatory challenges of erosion and sediment control.

Santa Barbara, California.
---
CRiB Construction Industry Research Board

For more than 30 years, CIRB has been the source of prospective and

historic information regarding new housing and commercial construction

Burbank

, California.
---
DIGITAL

ROOM

Full Color Digital Printing Services and Poster Printing Products

.

Los Angeles, California.
---

TRI-CO Blueprint & Supply

Full reprographic services including digital plotting & diazo printing.

Santa Barbra & Ventura, California.
---
Mega Color
Pre-press, digital services, printing, bindery and finishing.
www.megacolor.com
FL. NJ. TX. GA. MA. MO. IL. CA. NY. CO. AZ. and Ontario Canada.
---
RELIABLE GRAPHICS
Reprographics, imaging, and document management.
Van Nuys, Woodland Hills, Santa Monica, Woodland Hills,
Costa Mesa, Valencia, Pasadena & Rancho Cucamonga, California.
---
SQUARE
ONE
Architectural Rendering
U
rban design, planning and architecture. We understand the planning and approval process.
San Francisco, California.
---
Zema

Graphics Allen Zema

Architectural Rendering and Animation

West Lake, California.
---

Prime Edge Drafting
Architectural / Structural CAD Drafting & Rendering.
Redwood City, California.
---
BERGER/CONSER
Architectural Photography
Los Angeles, California.
---
Primary Color
Pre-press, scanning/retouching, digital photography & printing.
www.primarycolor.com
Los Angeles, Irvine & Orange County California.
---
J. Bullock & Associates
Custom architectural illustration, pen and water color.
Downey, California.
---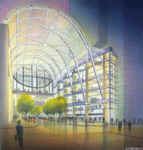 Robert Becker
Conceptual Design · Architectural Illustration
Walnut Creek, California.
---
John MacLean
Residential & commercial architectural photography.
Santa Fe, New Mexico.