CALIFORNIA
CONSTRUCTION, BUILDING & HOME
Electricians Electrical Supplies Mechanical Solar Public Utilities
---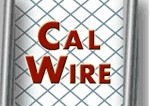 CAL WIRE
California Wire Products Corporation
woven wire specialist since 1948
Custom hand rail, infill panels. guard rail, modular systems & custom applications.
Corona, California.
---
Home Fire Fighting Systems

Systems and equipment.

www.homefirefightingsystems.com

Placerville, California.
---

NEOPORTE

MODERN DOOR

Manufacturers of contemporary stainless steel entry door systems

for residential and commercial applications. lasts a lifetime.

Enduring Beauty. Innovative Solutions. Unparalleled Security.

Santa Monica, California.
---
Vandal Stop Products Veteran Owned - made in America
Public Restroom Fixtures Designed to Fight Vandalism and Corrosion!
Chatsworth, California.
---

SDC Security Door Controls

ISO 9001 Certified manufacturer of card access controls systems,

electrified locksets, magnetic locks and electric strikes for industrial security.

Westlake Village, California.
---

digiQUEST
Electronic Products
Digital Video Transmission Technologies.
Oceanside, California.
---
DIVERSIFIED AUTOMATION
INTELLIGENT BUILDING SYSTEMS.
Energy management, building automation, lighting, card access, and sub-metering systems.
Buena Park, California.
---