---
VULCAN MATERIALS COMPANY
The nation's largest producer of construction aggregates
primarily crushed stone, sand and gravel, including asphalt and ready-mixed concrete
Birmingham, Alabama | coast-to-coast footprint and strategic distribution network
---
STAKER PARSON MATERIALS & CONSTRUCTION
Ready - Mix Concrete / Asphalt & Paving / Landscape Materials
Heavy Civil Construction Services, Rock, Aggregates, Roads and Site Development.
Ogden, Utah | landscape centers located in Ogden, Lehi and Salt Lake City | call 888 90 ROCKS
---

Erosion Control Magazine from FORESTER PRESS

The only magazine to focus on solutions to the

technological

and regulatory challenges of erosion and sediment control.

Santa Barbara, California.
---
The Sustainable Site from FORESTER PRESS
Green Infrastructure and LID
www.foresterpress.com/fps_sustain.html
Santa Barbara, California.
---
NETAFIM USA Drip & Micro Irrrigation Products
The world's number one provider of drip irrigation solutions
for Agriculture, Landscape & Turf, Greenhouse & Nursery, Mining and Wastewater applications.
Fresno, California | Grow More with Less
---
Dirt Time Training from FORESTER PRESS
Education for erosion control and earning Continuing Education Units.
www.forester.net/training/index.html
Santa Barbara, California.
---
ALLAN MYERS BETTER • FASTER • SAFE
For more than 75 years,
we've been building the infrastructure that defines the Mid-Atlantic.
Malvern, Pennsylvania | Delawre | Maryland | Virginia
---
BORAL
RESOURCES
Fly ash for concrete & specialty products for the construction industry.
Salt Lake City, Utah.
---

ROKLIN SYSTEMS INC

Polyurethane products for Concrete & Asphalt Repair

Our materials are specifically designed to provide quick installation and long-term

durabilityfor everything from high traffic roadways to parking decks, to your driveway at home.
Lake Forest, California.
---
FISTER Quarries Group International

Architectural chemicals and accessories

.

Batavia,

Illinois.
---
STEGO INDUSTRIES, LLC.
The industry leader in the below-slab vapor barrier.
San Clemente, California.
---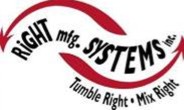 Mix Right Products from Right Manufacturing Systems Inc

Concrete mixers, rock tumblers, silos, and batch plants.
www.rightmfgsys.com

Lindon, Utah.
---
ROADBOND E1N PATENTED SOIL STABILIZER
World Leader in "Green" Soil Stabilization Technology.
Tolar, Texas.
---
ConcretePumping.com
NETWORK centered around the industry we love best, Concrete Pumping.
Plano Texas
---
Mar-Mac Wire Inc. When You Demand the Best
PREMIUM Wire Products - the de facto standard for the concrete construction industry.
McBee, South Carolina.
Lafarge
NORTH AMERICA
CEMENT AGGREGRATES CONCRETE ASPHALT GYPSUM
North America's largest diversified supplier of construction materials in the U.S. and Canada.
Washington, DC.
---
MBW INC.
COMPACTION AND CONCRETE CONSTRUCTION EQUIPMENT
Singer, Wisconsin.
---

Roadware
concrete repair products
From automotive manufacturing, grocery distribution,
and fabrication to mega retailer, Roadware products can keep your industrial floors in top repair with no downtime.
Saint Paul, Minnesota.
---
SLUSSERS
we bring the land to life
Commercial landscaping services and heavy highway contractor partners.
Logansport, Indiana.
---

GL Throop
since 1921
A national specialty ready mix concrete producer - mobile concrete batch plants.
Concrete placement, masonry repair, aggregates and landscape materials.
Pasadena, California.
---
Ulland Brothers Construction
Aggregates, heavy equipment & civil construction.
Minneapolis, Minnesota.
---
Johnson Construction Materials
aggregate solutions that work for you
Sand, gravel and crushed stone products.
Columbus, New Washington, Indiana & Louisville, Kentucky.
---
LONESTAR

Industries Inc.

Cement, ready-mix concrete, and construction products.

Indianapolis, Indiana.
---
King Quarry Natural Stone Products
Landscapes / Hardscapes
Dimensional / Architectural - Aggregates
Sugar Camp, Wisconsin.
---
Johnson-Ross Concrete Plants
Redi-Mix / Batch Plant Equipment.
Brownwood, Texas.
---
EZ Grout Corporation

Grout delivery systems, mortar mixers, bracing systems and other labor saving equipment.

Waterford, Ohio.
---
Twin City Concrete
Concrete mixes, mortar, cement, aggregates, admixtures. sealers & accessories
Saint Paul, , Minnesota.
---
LANG STONE COMPANY

Americas oldest stone company.

For buildings, homes, landscapes and interiors.

Columbus, Ohio.
---
SI

Concrete Systems

Global leader in Fiber Reinforced Concrete.

Chattanooga, Tennessee.